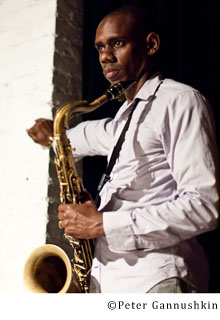 A native Washingtonian, tenor saxophonist Brian Settles graduated from the prestigious Duke Ellington School of The Arts, a product of master teacher and musician Davey Yarborough. He earned his BFA from The New School University in New York City, studying under Arnie Lawrence, Steve Neil, Charles Davis, Reggie Workman and Chico Hamilton. In 2008 Brian completed a Master of Music (MM) degree from Howard University where he was a graduate teaching assistant and student of saxophone virtuoso, Charlie Young.
Among others, Brian has performed with Curtis Fuller, Gil Scott-Heron, Shirley Horn, Stanley Turrentine, Stanley Clarke, Mickey Roker, Butch Warren, Freddie Redd, Tom Abbs & Frequency Response and currently plays with Tomas Fujiwara and the Hookup.
In June 2011, Brian Settles and Central Union released "
Secret Handshake
", on the Engine Studios label - Brian's debut as a leader.